incontinence pads how often to change
Descripción del producto
Wholesale disposable adult incontinence pads for women manufacturer
1, Over 29 years of feminine hygiene products production experience servo motor system. GMP, FDA SGS,COC,ITS certified etc.
2, The production use touch screen control, could catch up with 580 pcs/min. Strictly control the product absorption 15 min/time.

3, More than 29 years manufacturing experience. Cooperated / Cooperating with Woolworth, Coles, Mannings, Waston's, Walmart, Carrefour,Shoprite, Tesco etc.

4, Customize more than 120+ brands for over 80 countries.
* Soft non woven top sheet,
* Fluff pulp+SAP as absorbent core with absorption of 240ml,
* Two rubber lines on each side,total weight 41g,
* PE individually wrapped. 0.8-1cm thickness.
( 29 years of production experience,welcome to contact us for free sample to see quality before placing an order )
Material Composition:

1.Top sheet-non-woven fiber.




2.Absorbent layer-tissue, fluff pulp and super absorbent polymer.




3.Back sheet-polyethylene sheet.

Structures

1, soft non-woven film




2, tissue paper




3, fluff pulp +SAP as absorbent core




4, two rubber lines on each side




5, PE individually wrapped

Functions

Add anion or some esstional oil / according to the customer's requirements

Color:

White customized

Size

450mm x 210mm

Weight

About 41 Grams

Absorbency

240ml

Package

10pcs/bag or customized

MOQ

200,000pcs

OEM

Available

Certificate

ISO/CE/FDA/SGS/ITS etc.
Pictures Display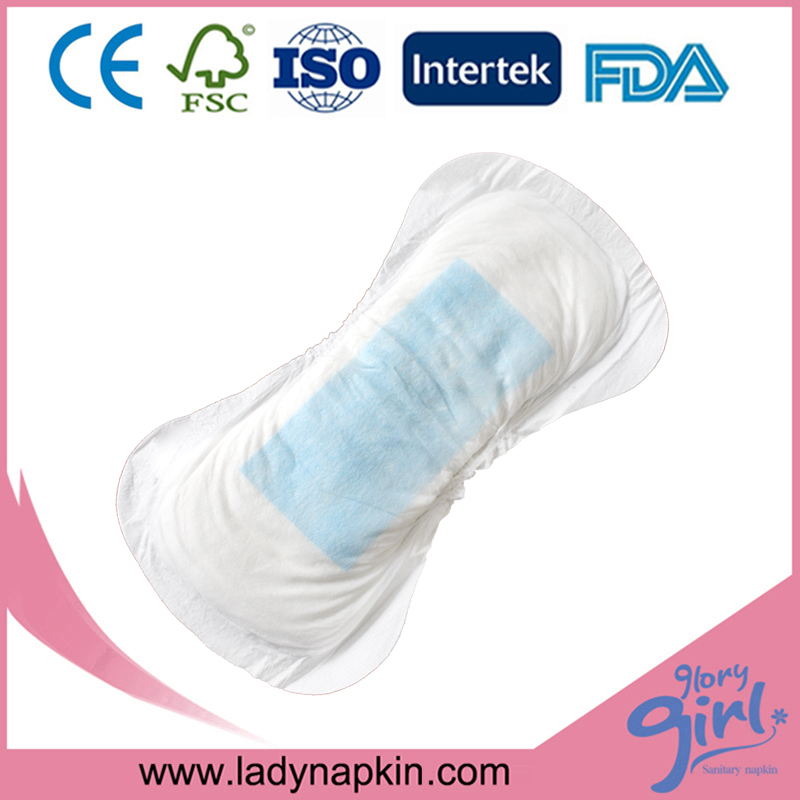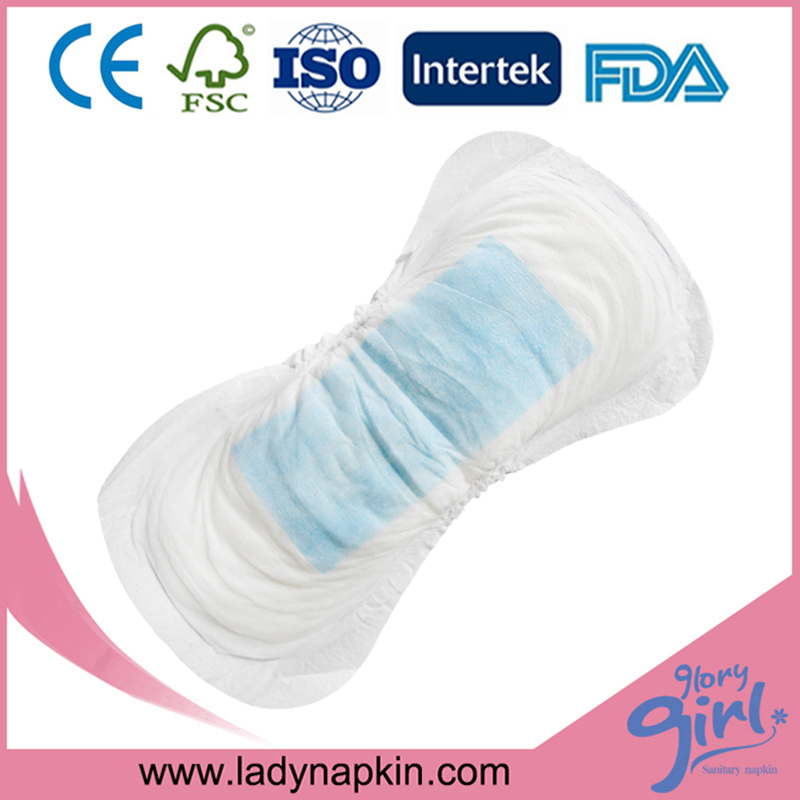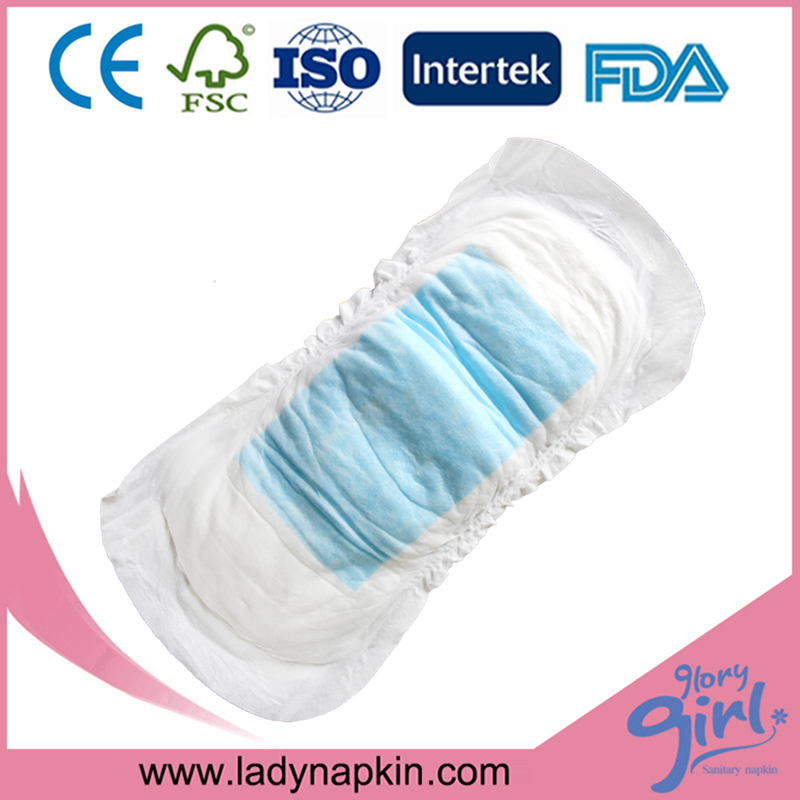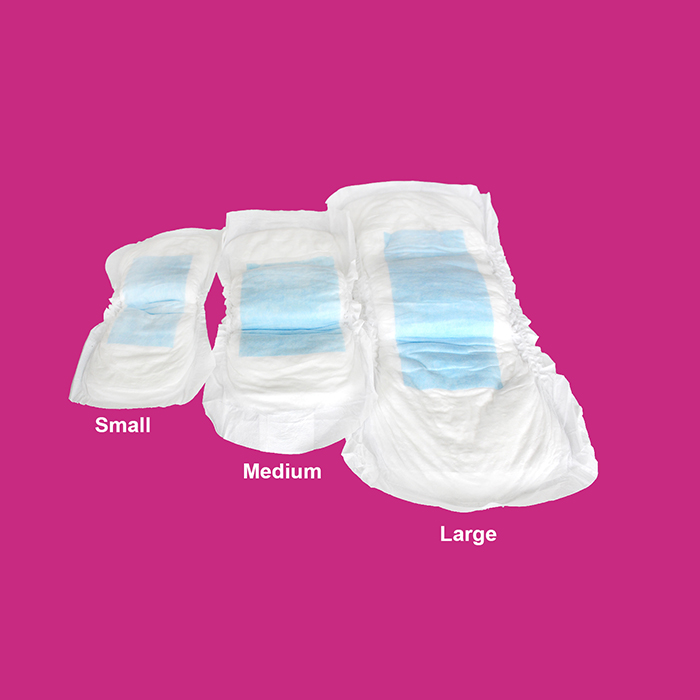 Other Product Pictures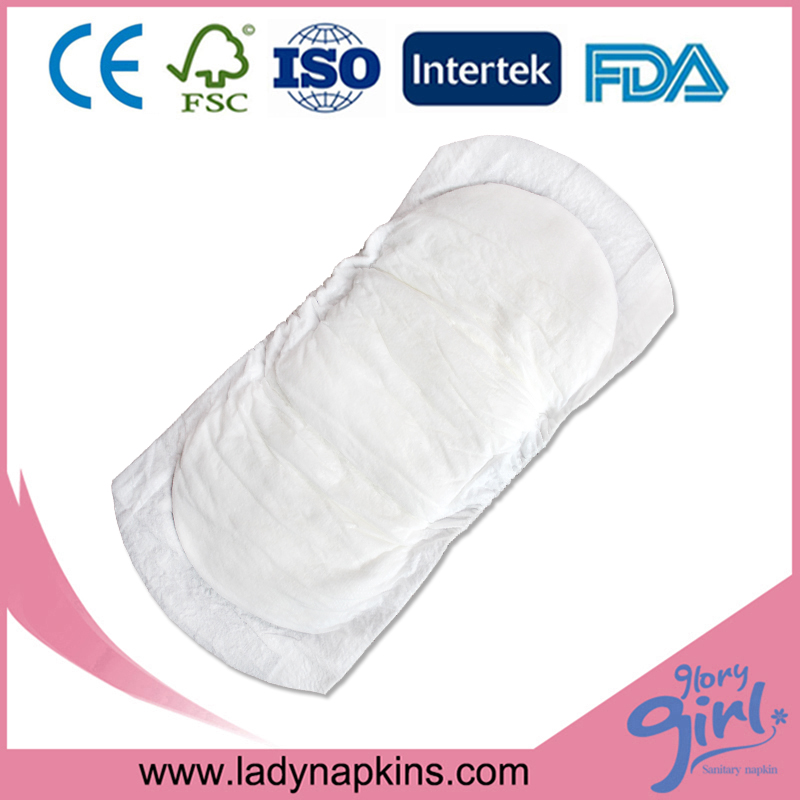 Wholesale disposable adult incontinence pads for women manufacturer
Product Packing
We have different options of packaging for incontinence pad,sanitary pad and panty liner.
(1) Aluminum Foil Bag
Aluminium bag is a food grade bag. It comes with an easy quick seal sticker. Girls can put the sticker back after
take one pad out. Fantastic looking of the package displayed on the shelf may easily cause eye catching. It is a
good option to keep pads away from moisture and be hygienic in all times.
(2) Normal PE bag
It is a cost-effective plastic bag. It is common globally.
(3) Zip Lock Bag
It is a bag with a zip lock. The bag can be rezipped after take one pad out of the bag. Zip lock bag is a good
option if girls want to keep pads away from moisture and be hygienic in all times.
(4) Paper box
Paper box is a packaging 100% recycle. Environmental sustainability has become more important in now days. It is a good option for buyers who always focus on protecting our environment. Paper box can be with different
shape and structure catering to different requirements. It is also a good option for buyers who want to change
designs often as paper box does not require any plate or mould charge.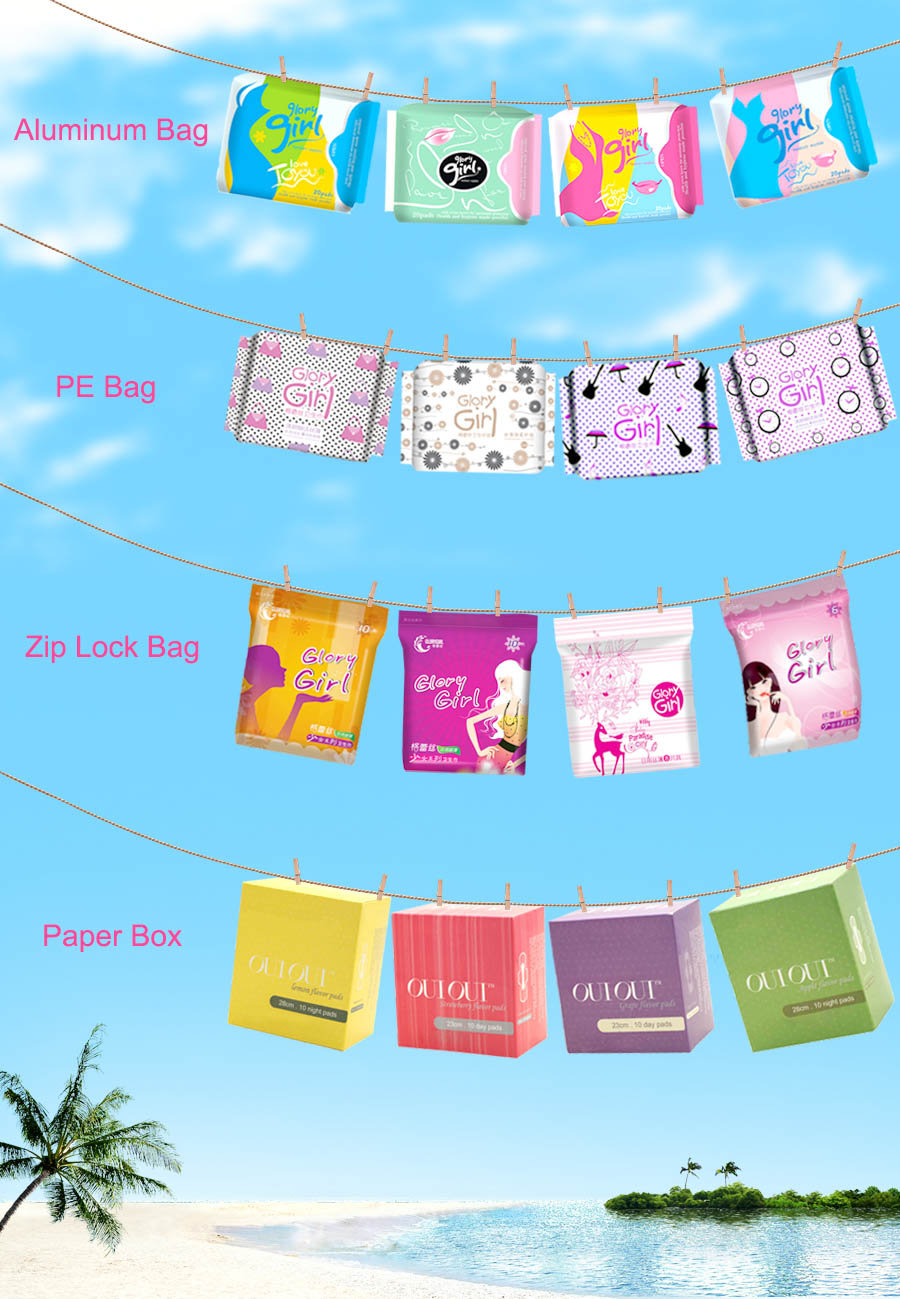 Product Packing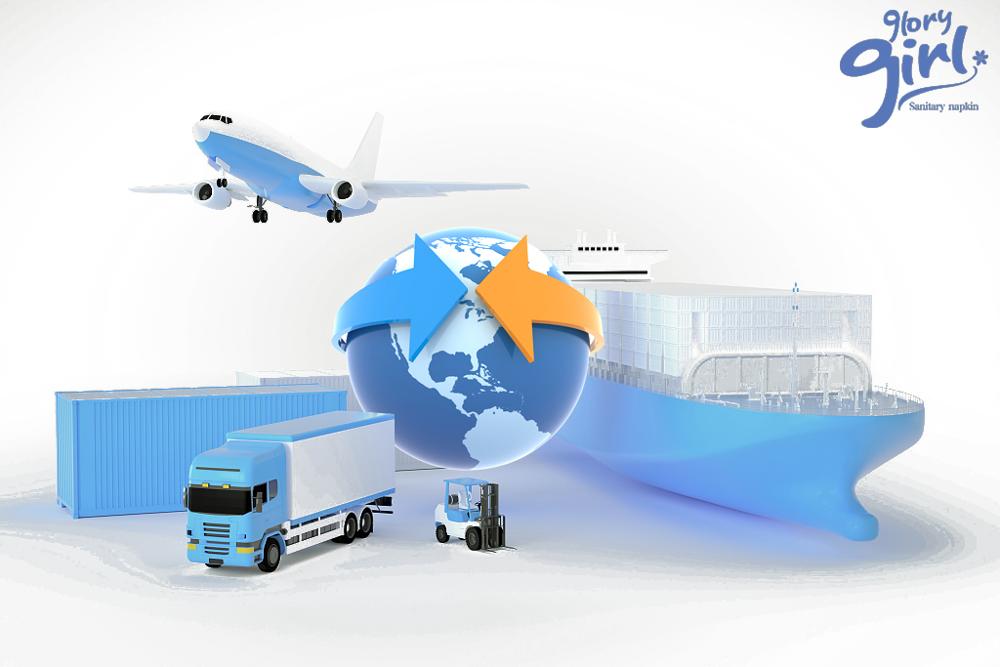 (5) Shipping: by sea or by train
Anion blue chip sanitary napkin has been transfered to Malaysia, Singapore, Philippines, Indonesia, Russia, Kazakstan, Thailand,Hungary,USA.Canada,India,Australia.etc.
(6) Logistic information for shipping
| | | | | | |
| --- | --- | --- | --- | --- | --- |
| Length (mm) | Q'ty (pads/pack) | Q'ty (packs/ctn) | Description | Cartons loading in one 20ft | Cartons loading in one 40HQ |
| 240 | 9 | 48 | individually wrapped ultra thin perforated day pads with wings | 1145ctns | 2708ctns |
| 280 | 10 | 48 | individually wrapped ultra thin perforated night pads with wings | 972ctns | 2500ctns |
| 320 | 10 | 48 | individually wrapped with printed PE film, non-woven ultra-thin night pads with wings | 900ctns | 2083ctns |
We can supply incontinence pad, sanitary pad either under customer`s brand or our own brand.
Full range of our products
(1). Sanitary napkin/sanitary pad : 180~410mm long cotton / dry weave / ultra thin / regular / maxi / winged / wingless / functional chips / scented
(2). Panty liner: 140~180mm long cotton / dry weave /T-shape / black liners / scanty ultra thin / fluff pulp / scented
(3). Tampon: Applicator tampon/ digital tampon, mini / regular / super size
(4). Sweat pads, sweat liners, shoe liners
(5). Incontinence pad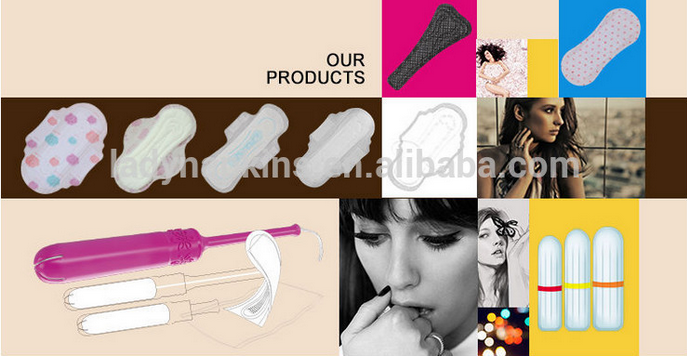 Every package of sanitary napkin and panty liner can put together with a Female Vagina Inflammation Self-Test Card. This could help women test their body immediately and conveniently.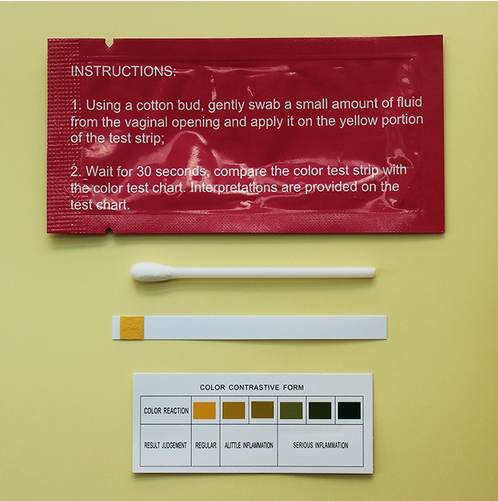 Company Briefs

(1) What we do
We are specialized in manufacturing high level, fashionable, safe and healthy feminine hygiene products for women. Our products include sanitary napkins, panty liners, sweat pads and tampons in all size, type and grades. They are carried out with the standards of FDA, GOTS, CE, I S O 9 0 0 1, SGS ,ITS ,MSDS etc.
(2) Our factory
Our factory is gardenlike modern plant which covers around 60,000 square meters, equipped by auto high speed and advanced production lines, all the devices equipped in high level ensure every pad we produce completely safe, hygienic and high quality. Quality control runs strictly throughout all the links from raw material to finished products.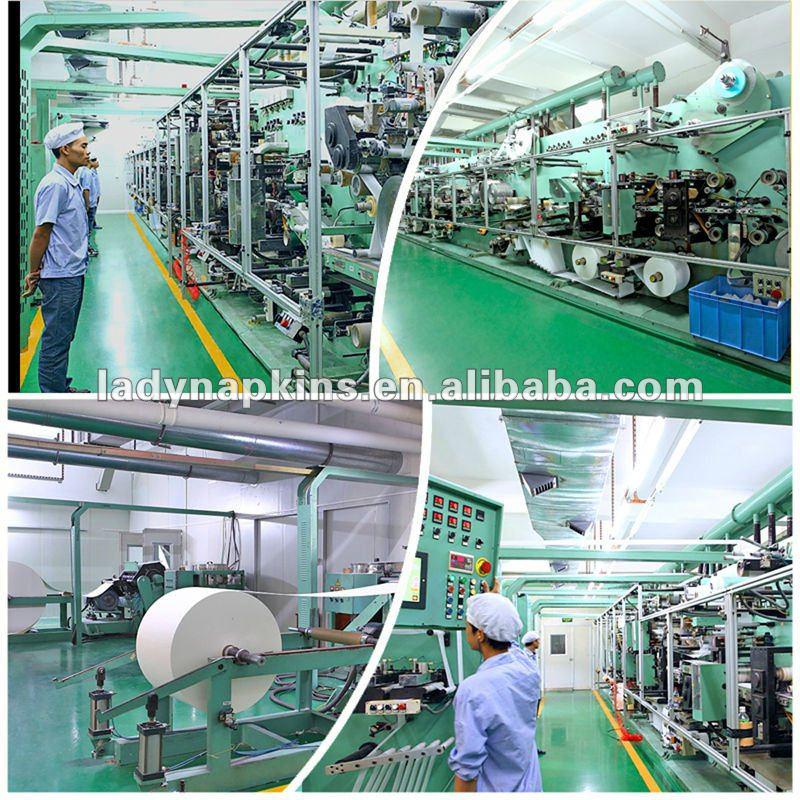 our factory of the sanitary napkin and panty liner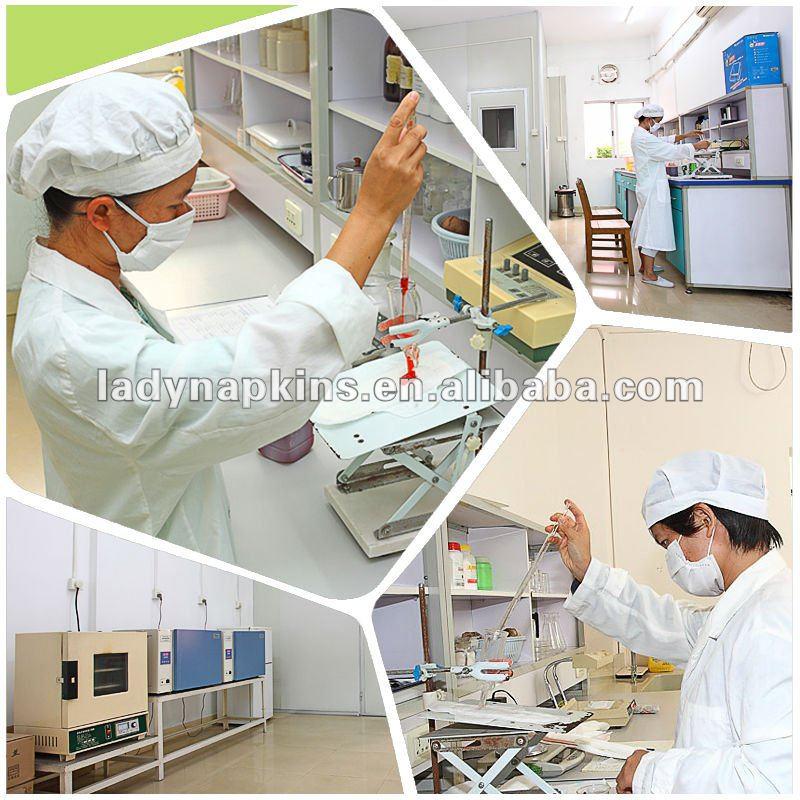 Factory laboratory
(3) Our capacity
Our production capacity is about 110 million sanitary pads per month, and 60 million panty liners per month. The products cover around 120 global retail brands. More vividly speaking, if made 170 million pads (one month output) connected total length is about 40,000 kilo meters which is a circle of our earth.
(4) Liability
We regard reputation as our precious life. Liability is a guarantee for us to go farther on. From raw materials to production, after production, delivery, after sales service, all products carried out under strict standards and regulations throughout all links. We guarantee every packet of pads in fine quality. We are committed to be a 100% liable enterprise.
(5) Certification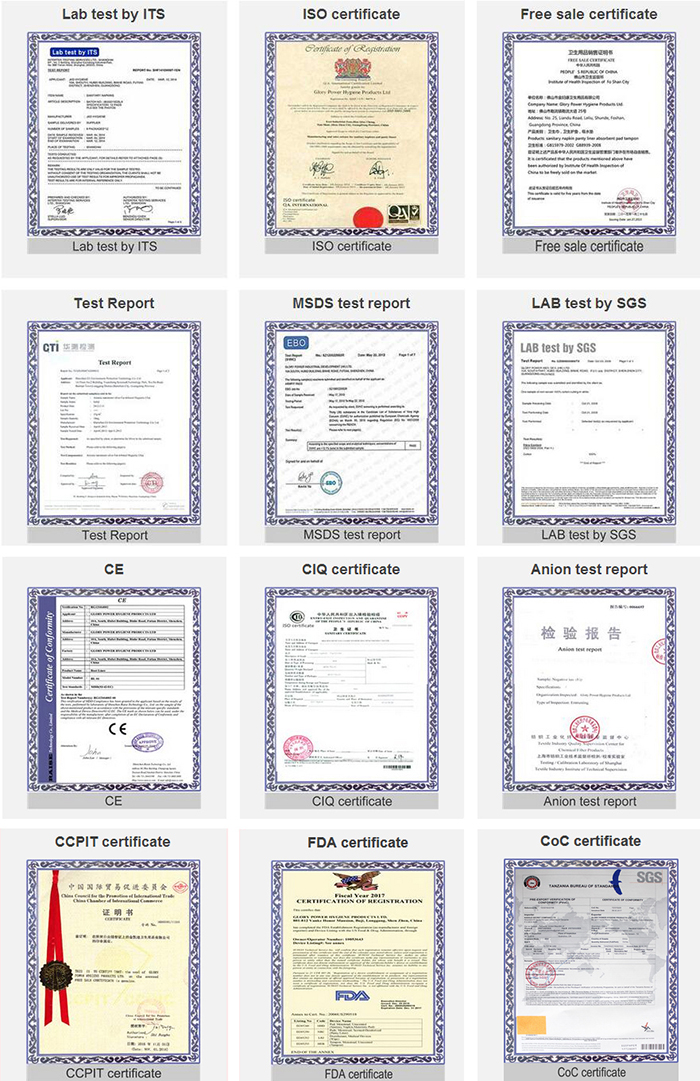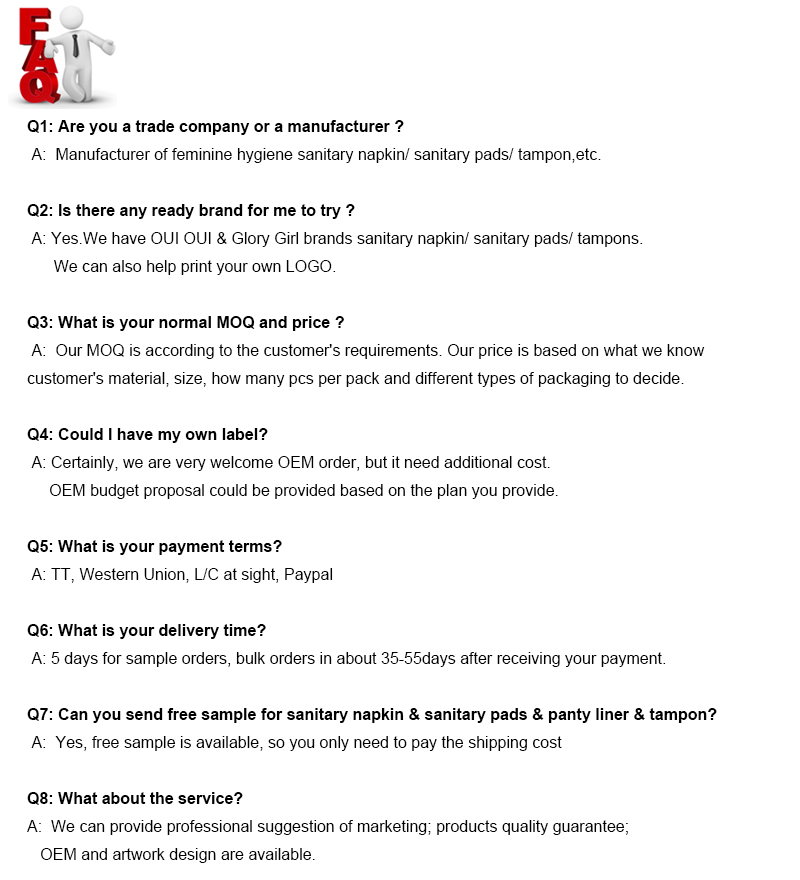 Glory Power Hygiene Products Ltd.
(1) experiencia de fabricación
Glory Power Hygiene Products Ltd. está especializada en la fabricación de productos de higiene femenina de alto nivel, modernos, seguros y saludables para mujeres durante 29 años. Todos los productos se llevan a cabo con los estándares de FDA, GOTS, CE, ISO 9 0 0 1, SGS, ITS, FSC, MSDS, etc.
Nuestra fábrica es una planta moderna similar a un jardín que cubre 60,000 metros cuadrados, equipada con líneas de producción tecnológicamente avanzadas de alta velocidad, todos los dispositivos equipados en alto nivel aseguran que cada almohadilla que producimos sea completamente segura, higiénica y de alta calidad. El control de calidad se ejecuta estrictamente en todos los enlaces desde la materia prima hasta los productos terminados.
Cooperado / Cooperando con Woolworth , Coles , Mannings , Waston's , Walmart , Carrefour , Shoprite , Tesco , etc.
(2) Colección Pad
Tenemos artículos extensos de almohadillas y docenas de cubiertas para elegir, o nuestro ingeniero experto puede personalizar cualquier fórmula o forma de almohadillas para usted. No importa la cantidad de su pedido sea grande o pequeña, Glory Power es la compañía lista para suministrar.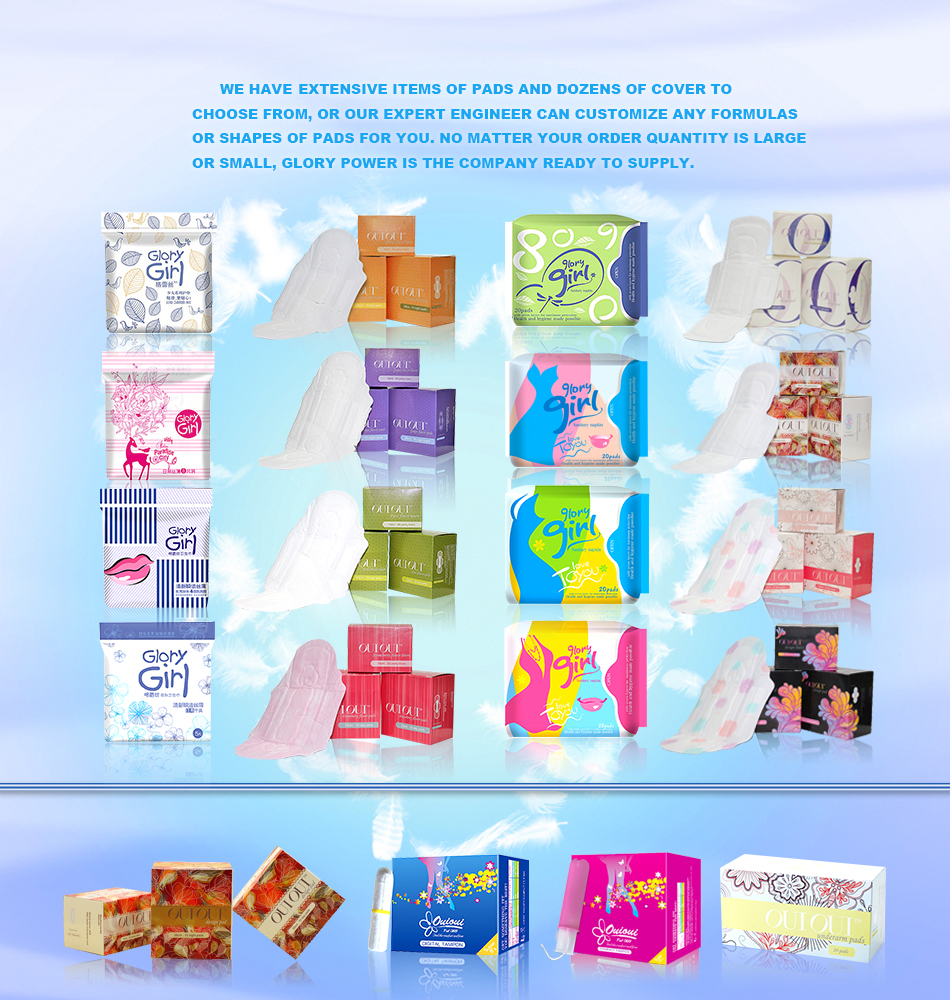 (3) Capacidad

(4) Innovación activa
Desde almohadillas gruesas ordinarias hasta almohadillas transpirables ultrafinas, desde tejidos continuos mejorados y apariencia de la almohadilla hasta extractos herbales, aniones, carbón de bambú ampliamente utilizado en almohadillas sanitarias, desde almohadillas comunes hasta almohadillas orgánicas, desde estériles hasta estériles grado médico 100% estéril Glory Power siempre explora nuevas oportunidades y camina a la vanguardia de la reforma.
De principio a fin; de conceptualización a producto final innovador; Cualquiera que sea la visión que tenga para su negocio, Glory Power puede y lo hará realidad.
Nombre de empresa: Glory Power Hygiene Products Ltd.
Producto / Servicio: Servilletas sanitarias , Toallitas intimas , Tampones Femeninos , Pastillas de sudor , Almohadillas de maternidad , Toallitas húmedas
Porcentaje de exportación: 81% - 90%
Número de Líneas de Producción: 10
Número de empleados para investigación y desarrollo: Fewer than 5 People
Número de empleados para control de calidad: 11 -20 People
Servicio del OEM proporcionado: yes
Tamaño de la fábrica (metros cuadrados): 5,000-10,000 square meters
Persona de Contacto: Mr. Eric Chen
Número de Teléfono: 86-0755-83466248